APRIL 2017 ISSUE: OUR 28th year of publication, CMM is bigger, bolder, brighter, now MORE PAGES, FULL COLOUR THROUGHOUT - and the 2017 Almanac, the 'bible' for enthusiasts is HERE!
Subscribe now and you can get Britain's most comprehensive events booklet - the 2017 Almanac - from only £1.75 extra; a genuine bargain for this essential publication! For more details on this super diary - worth up to £9.95 plus p&p alone, click here. As usual, in our latest issue - in the year where we celebrate our 28th Year of Publication - we've a run down on all that's best in the classic car world!
In the April issue,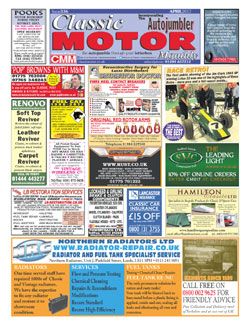 On Your Marques looks at the VSCC's Formula Vintage and more. Magpie checks out the French Connections, and in the Spannerman column it's Spannerman & The MOT. Our column by former National Motor Museum Curator, Michael Ware, includes a look at City Wheels in Wareabouts, while Peter Love gives us another Love Steam and Commercial Break. There are news snippets galore, our Letters column, and our look at the world of the autojumbling with The Secret Autjumbler. We've the results of last month's comptition to win a copy of the newly restored British classic Hell Drivers, Grant Ford's Fordie's Favourites checks out his favourite classics, we preview the big upcoming events including two brand new shows planned for iconic racecourse venues, plus reviews of recent events including Race Retro, the 40th Antwerp Salon, the 40th Arras Bourse D'Echanges and Tractor World. Landers Lobby checks electric cars and asks are they the future? We pay tribute to the late Edgar Milner of Tatton Park Classic fame and the great John Surtees, and in The Professionals, Michael Ware checks out Paul Rogers Engineering. Look out for all the news and snippets, plus all those ads for upcoming events; no better time than now to think about that subscription than the April issue!!
Our letters page has, as usual, your views on the issues of the day and more. We feature more services and spares than ever in our ads section, a look out too for Klaxon's Readers Problems, the CMM Crossword from Alvina Williams where you can win fabulous prizes courtesy of our sponsor Gunson, On Your Marques, club news, Get Set, news snippets, our fascinating 'All You Wanted to Know' column with Minerva, book & video reviews, the latest products and services, and the biggest events section of any publication in the U.K., featuring all the events, autojumbles, auctions and collectors swapmeets that YOU want! Why not order your copy today and get the 2017 Almanac from only £1.75 extra! CMM makes the ideal gift! For subscription info., click here!
Why not download a sample page (download is in Adobe Acrobat PDF file format - 150kb) of CMM? If you wish to download the sample page, click here.
PLUS, this and every month, 1000s bits, 100s of cars, loads of essential services for you in our Classic-fieds to wade through in our Classic Motor Mart & Autojumbler sections, and the biggest Events Diary section of any publication in Britain. Another good reason to subscribe now! Safe, Secure Ordering through CMM! You'll find a selection of last months ads, a sneak preview of this months ads, PLUS the latest ads On-line, by clicking here.
AND...subscribe NOW - using our brand new Secure Server Form - you can get FOR ONLY A SMALL EXTRA CHARGE, our Year 2017 Events Diary and Almanac that's worth £9.95!!
Be sure of getting the 2018 Edition FREE by staying on our mailing list and don't forget to visit our events page and send us YOUR events dates. Want to know more about CMM? Get the facts here.
April Issue Previews...
ELECTRIC CARS - THE FUTURE OR MAYBE NOT...
SOME SOURCES ARE CLAIMING that the 'tipping point' for electric cars has almost been reached. A distance of 200 miles per charge is now possible, so 'range anxiety' has been conquered. Well... more or less.
And it is predicted that prices of pure electrics (with the help of generous government subsidies, of course) will soon be close enough to those of conventional vehicles for demand to soar.
It's certainly true that major manufacturers, such as Nissan and Chevrolet, have important new 'mass-market' models on sale - while Tesla, in the USA, is aiming to build 500,000 cars per year by 2018. Ironically though, if there is a spectacular rise in sales, it could contain the seeds of its own destruction, because it might prove impossible to make enough batteries to keep up with vehicle output.
At the moment, lithium-ion batteries are mainly used in phones, computers and power tools. That all changes if electric cars really take off - expectations of a shortfall in lithium production recently led to a tripling of its price. Not only will it be needed for electric car batteries, but also for mains battery backup. This is the latest green energy idea, similar in concept to 'uninterruptible power supplies' for computers.
Renewable energy sources are not constantly available - and can't be suddenly boosted to meet short-term consumption peaks - so it makes sense to have power packs wired into the system to regulate the output. These batteries can, for example, soak up solar-produced electricity during the daytime, then release it when required in the evening. Tesla, again, is taking the lead, and already manufactures a popular household-sized product, whilst also custom-building huge installations for industrial use. These take an awful lot of lithium-based batteries...
Lithium is only found in certain parts of the world (principally North and South America, China and Australia), and the industry is highly concentrated. It isn't mined in the conventional sense - lithium salts have to be evaporated out of brine, and vast areas of land are required to carry this out. Although the material itself is relatively abundant, the extraction and purification processes can't easily be expanded in scale. LG and Samsung have been the biggest buyers in the past, but Chinese firms are now ensuring their future supplies by acquiring the extraction companies. This means that less lithium is being released on to the open market for international consumption, so analysts expect the price to continue rising.
However; there could be an even greater problem with cobalt - which, weight for weight, forms a greater part of a modern battery than lithium. Cobalt is essentially a by-product of copper and nickel mining - where it is found in very small quantities compared to the other ores. Traditionally, it has been used for producing special steel alloys. Because so little of it was needed by the steel industry, its high price has been fairly unimportant - until now. The growing demand for cobalt is proving to be both difficult and expensive to meet - and has a very unfortunate side effect.
Oddly enough, it seems that the low current price of copper is not so much because of a depressed demand for that metal, but has come about largely as a result of the cobalt shortage. As more cobalt has been required for batteries, more copper has been mined to get it out - leading to a glut of copper. The big problem here is that we are already getting through our known copper reserves at a frightening rate. (Some experts claim that less than forty years' worth is left at present extraction levels.)....
From The Landers Lobby in our aPRIL issue; read the whole article, subscribe today!
MEGA-STAR CAR – '41 BUICK...
BUICK'S MODEL 49 MADE the perfect 'West Coast Woodie' and became the ride of choice for MGM starlets but as wartime approached this rare model had little time to shine; its story contains more than just a hint of Hollywood...
The studios of west LA enjoying the golden age of film production required the versatility of the station wagon coupled with the style their 'matinee idols' demanded. Buick's Woodie became a parking lot celebrity for the likes of 20th Century Fox and Warner Bros alike, the 'upmarket' machine from Flint Michigan appealed to the film set; MGM even gifted one to Bette Davis. Buick having ridden the turbulence of the depression enjoyed an upturn in prosperity combined with the launch of its straight-eight power plant in 1931. Its position justified at the higher end of GM produced machines; as America prospered, so did the marque. 1940 saw the Buick Series include a 'Woodie' Estate Wagon and advertising featured one super star owner, Clark Cable. It would be a 1941 Model 49 that transported Paul Newman back to the chain gang and ultimately to 'meet his maker' in Cool Hand Luke. 
Buick production for 1941 actually began 26th July 1940 and consisted of 26 different models; it would become a record year for the manufacturer with a total of 370,101 vehicles filling the dealerships. Of those the Series 40 Specials came in 'A' (118-inch wheelbase) or 'B' (121-inch wheelbase) versions. Designated Model 49, the Series 40B 'Woodie' six passenger estate wagon was the least produced with just 838 leaving Flint and of those only a dozen are thought to be enjoying roads today, making them highly desirable.
The numbers achieved would not be repeated when events 4,500 miles away changed everything; from December 7th 1941 war production would take precedence over automobile manufacture. What did the client obtain for their $1360.00 purchase price? From the bulk head rearwards, apart from the steel floor and chassis, the Model 49 was purely hand crafted ash wood, minus any metal infill panels (which became the norm later); a Fisher design built by Hercules Body Company of Indiana. Canadian lumber arrived at Evansville Indiana for bodies constructed by Hercules prior to transportation, four per train boxcar onto Flint.
The 1941 body had moved on from the earlier flat sided appearance offering curves, most noticeable on the doors. At just over 4 litre or 248 cubic inch Buick's Fireball Dyna-flash straight-eight came as standard, fuel by Carter twin carbs offering 125hp pulling 3,980lbs, with 215ft lbs torque at 2000rpm. A three speed column change allowed for huge leather bench seats that easily accommodate six with enough luggage compartment space to satisfy any superstar....
From Fordies Favourites in our April issue; read the whole article, subscribe today!
SPANNERMAN & THE MOT...
WHAT IS THE VALUE OF THE MOT test? Now there's a typical conversation topic from the Chequered Flag. It's a motoring related topic, and whatever the age of the car you drive, it's something which affects you.
Or does it? After all, if you're one of the many people these days who chooses to replace your car every three years using one of the latest car leasing deals, then you never have a car that's three years old and therefore you never need to get a car through the MOT test. And if you also happen to own a classic car that's old enough, then you miss out at the other end of the scale because of the age related exemption which currently means that if your car was built earlier than 1960, then you don't need to get an MOT test pass either.
This question about the value of the MOT test cropped up as a topic of conversation because, as you may have heard, there's a government sponsored consultation going on at the moment over whether it might be beneficial to increase the number of years before which the first MOT test on a car is due to four years, or should things stay unchanged at the current three years of age. There certainly seems to be an awful lot of things to take into consideration, not the least of which is the effect the potential change might have on the number of tests carried out by each MOT testing station.
This of course could impact on the economic return on the investment that each MOT testing station puts into its test equipment and facilities. Herbert, who owns our local MOT station, is usually fairly reticent when it comes to giving away information about his business, but even he felt moved to say that he was minded to respond to the consultation with his thoughts. Although he didn't state these explicitly, I'm sure he won't mind me saying that these were fairly well set against any change.
As the conversation wore on, it appeared that a rather unusual situation developed. A consensus emerged. Now that doesn't happen too often down at the Chequered Flag, but it seems that in general the change was not seen as a good move. Most people agreed that modern cars do seem to be built in such a way that they offer generally reliable performance for a good few years, but there was a general overall opinion that basic as though it is, it is a good idea for an annual safety check to take place. And by the way, I mentioned how unusual it was to have a consensus emerge down at the Chequered Flag. If you need an example of where opinions diverge, just try mentioning the question of the exemption from the MOT test for older classics!
Over recent months, we've been getting BACK TO BASICS on the topics of fuel vaporisation and fuel starvation and the impact these problems might have on acceleration. We started by looking to see whether there might be a lack of fuel in the fuel air mixture that could be causing any problems, and we also saw how the colour of the tip of a spark plug could tell you a great deal about how an engine is running. Last month we were looking at issues that might be caused by problems with carburettors. Finally, I want to turn to the fuel pump, and how any deterioration in performance of this important item might lead to problems. Whenever you are investigating the performance of a fuel pump, it's important to remember that fuel can be dangerous stuff. It's not a good idea to be disconnecting fuel lines when the engine is hot, and even if you think that you are dealing with a fuel line which is a good way away from a hot engine or a hot exhaust, remember that the fumes from fuel can ignite under the right (or perhaps that should be the wrong!) circumstances....
From Spannerman in our April issue; read the whole article, subscribe today!
  CMM FACEBOOK PAGE EXCLUSIVES!
RECENT ADDITIONS TO CMM'S Facebook page include:
A Photo album for the The NEC Classic Car & Restoration Show 2017
A Photo album for the The Lancaster Insurance Classic Motor Show 2016
A Photo album for the The National Restoration Show 2016
A Photo album for the The 27th Malvern Autumn Classic Car Show & Autojumble
A Photo album for the The Footman James Classic Car Show Manchester 2016
A Photo album for the The 50th Anniversary International Autojumble
A Photo album for the The Passion For Power Classic Motor Show 2016
A Photo album for the Lytham Hall Classic Car & 'Bike Show 2016
A Photo album for the Ackworth Steam Rally 2016
A Photo album for the Leighton Hall Classic Car & Motorcycle Show 2016
A Photo album for the At the Bristol Classic Car Show 2016
A Photo album for the Lancashire Automobile Club Manchester to Blackpool Run
A Photo album for the 30th Tatton Classic Car Show
A Photo album for the Capesthorne Hall Classic Show
A Photo album for Beaulieu Spring Autojumble
A Photo album for Malvern Spring Classic and Mini Show
A Photo album for Spring Vehicle Meet at The British Commercial Vehicle Museum
Look out too for videos associated with some of those events on our Facebook page! Don't forget to 'Like' us!